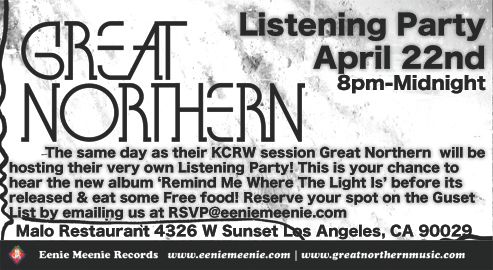 Yep that's right. Wednesday, April 22 is your first chance to listen to Great Northern's new album 'Remind Me Where the Light Is' before it is released!
This event will be going down at
Malo
, a Mexican restaurant on Sunset. The address is:
4326 W Sunset Blvd. Los Angeles CA 90029
We'll be there hosting the listening party starting at around 8 and going until midnight. It's free, but you have to RSVP by shooting an e-mail to
rsvp@eeniemeenie.com
. If you want to go to the party, then make sure you send and email and tell us. Otherwise you'll be left out in the cold!