Last night, yours truly had the opportunity to rock out at the
Troubadour
's Albert Hammond Jr. show and lemme just say, they tore the ROOF off the place!
I first saw Albert Hammond Jr on his own when he played the night after Halloween in Philadelphia at the
Khyber
, a SMALL Philadelphia nightclub famous for getting major acts to play a small room and selling out in a heartbeat. Fortunately (for me), they weren't allowed to put "of
the Strokes
" on any of the
flyers
or artwork. Most people know of
Jules
because indie mags with female writers felt compelled to comment on his boyish good looks and they know
Fab
's name because of his highly publicized relationship with
Drew Barrymore
, but Albert Hammond Jr flew below the radar in the mainstream as the rhythm guitarist with the sweet smile. That is all about to change though, following the March 6
th
release of his new record,
Yours to Keep
. It was originally released on
Rough Trade
in the UK (same as our own
Scissors for Lefty
) and I was lucky enough to get my grubby little
mitts
on a SIGNED copy at the show in Philly (
dork
, I know). But most have been met with only the option of purchasing a copy of the Limited Edition
EP
at the shows: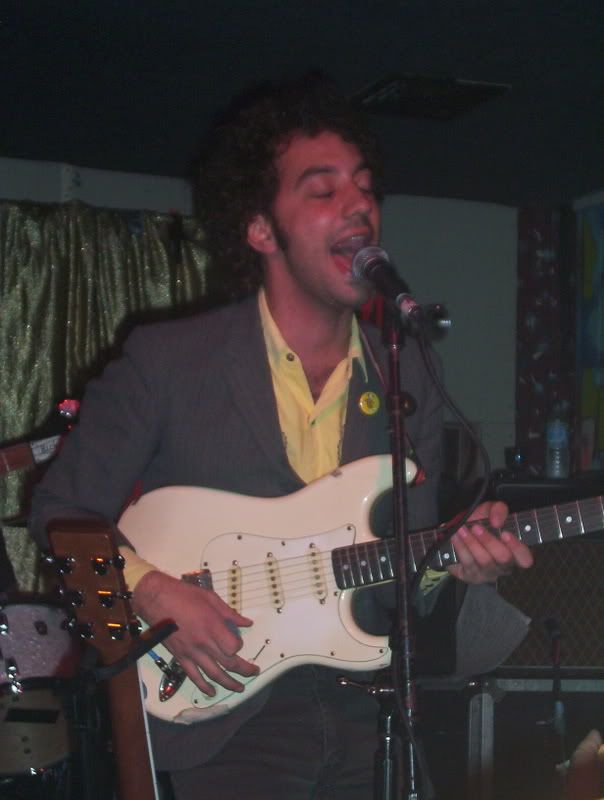 1. "
101
"
2. "
In Transit
"
3. "101" (Alternate Version)
4. "101" video (Directed by Patrick Daughters)
which of course I got (because I'm sick) and haven't yet opened,
y'know
like your grandma used to do with
Cabbage Patch Kids
she bought?
Ok
... like MY grandma used to do with Cabbage Patch Kids she bought.
I was one of the few people in the room who knew all the words to the songs (which if you've been reading this blog, you now understand how
AHJ
makes it on nearly all "office music" lists. Also, since the latest Strokes record is already permanently burned into my brain, this is the latest offering from at least ONE of them (although Jules sings back-up on "
Scared
" which you CAN hear if you pretend Sean Lennon ISN'T singing...) I have been glued to it since I got
ahold
of it.
Har
Mar Superstar was the opener. I don't think L.A. is ready for him yet, but he took me right back to NYC where I saw him first. Good to see you again, Sean.
The Troubadour is a cool venue. There's not a bad spot to stand in the house and it boasts history, stellar lighting, an organized staff and decent sound.
We'll
all be in the house on the 28
th
of Feb for the Scissors for Lefty show with the French Kicks!
Songs heard in the office today included:
Ciao!
CR