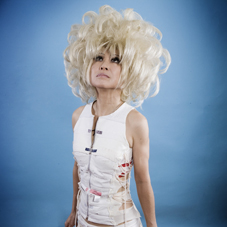 Lun*na Menoh, formerly of Eenie Meenie band Seksu Roba, will be holding a private showing of her new paintings this coming Sunday, July 19. While this viewing is not open to the public, you can still see some of her amazing new works of art in this blog.
This collection is called "A Ring Around the Collar", and it contains Lun*na's portraits of some elaborate outfits worn by various famous musicians over the years, including the Beatles, Kurt Cobain of Nirvana, David Bowie, Prince, Jimi Hendrix, Bob Dylan, and Kraftwerk, among others. Lun*na is greatly interested with clothes, in fact her website states that, "She not only makes dresses, but also makes objects out of clothing, lectures about clothing, writes about clothing, paints about clothing, makes money to design clothing and spends all her money on clothing." That passion for clothing inevitably sparked the concept of the "Ring Around the Collar" collection, and what resulted were some pretty neat paintings.
Here are some snapshots of the works:
The Beatles
Patti Smith
David Bowie
Prince
Sly Stone
Kraftwerk
Sparks
Bob Dylan
Kurt Cobain
As her biography states on her
site
, "Lun*na Menoh is a Japanese born Renaissance artist who lives in Los Angeles. Her work deals with fashion, clothing and exposing the invisible thread between performance and fabric by making sculpturisque dresses, paintings, and a series of fashion shows with her conceptual but wearable outfits."
Lun*na has moved on to a new exciting musical project, as well. As it is described on her site, "in 2006 Menoh started her own band called "Jean Paul Yamamoto" featuring her costumes with a combination of art performance, rock n' roll theatrics and intense sounds with the aid of fellow band members ex DEVO drummer Alan Myers and avant-guitarist Shin Kawasaki plus back-up singers/dancers Ayako and Moeko that flirts adventurously with the sound of Pop, Punk, Electro-Funk and Enka."
Check out the Myspace page for Jean Paul Yamamoto
here
.
Pretty interesting stuff, huh?