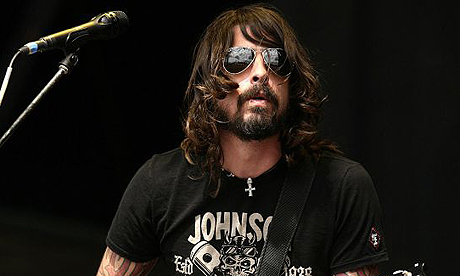 Super group bands seem to be forming every fifteen minutes or so lately, such as Tinted Windows, comprised of the guy from Hanson, James Iha from Smashing Pumpkins, the drummer from Cheap Trick and the guy from Fountains of Wayne. Tinted Windows is just silly pop music, though, instead of being something balls-to-the-wall rock & roll, which the music world is sorely in need of right now. Well, while doing my usual browsing of various music blogs, I stumbled upon some news that would have caused me to spit my coffee out in shock and excitement, had I been drinking some when reading the article.
Well, the story, which I read on BeatCrave.com (a pretty neat site that I also happen to write articles for every now and then), tells of a new super group forming that will presumably rock the foundations upon which the world sits. Namely, this band includes: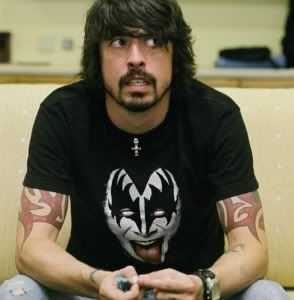 Dave Grohl on drums....
Josh Homme from Queens of the Stone Age on guitar...
and John Paul Jones from Led Zeppelin on bass.
Now, as a rock fan, this is AMAZING. As a shameless fanboy of Dave Grohl and everything he does, this is even more life-changing. Dave's one of my favorite musicians ever, due to his involvement with Nirvana and Foo Fighters, and I usually like any and everything he does.
When discussing this super group with a colleague (let's call him "Christopher"), we figured the band should be called 'Awesome', for obvious reasons. Jones, Grohl, and Homme have supposedly been holed up in a LA studio recording a debut album, and I simply cannot wait the months we'll have to wait to hear it. I usually don't get this excited over super group bands, but this is an exception. I mean, just THINK ABOUT IT. Dave Grohl rules, Josh Homme is pretty cool, and John Paul Jones was in LED ZEPPELIN. If this band is anything other than the coolest shit ever, I will be supremely disappointed. But I don't think that's going to happen.
So yeah...that was some great news I found this morning......carry on with your day. I'll try.